57'
A. M'bark el id
(Foul)
Your content after this ad
Your content after this ad
85'
E. Kovaçi
(A. Osmanllari - tactical)
85'
Enck
(Alan Calbergue - tactical)
84'
Gabriel Barbosa
(A. Rashiti - tactical)
83'
F. Lamge
(R. Dragoshi - tactical)
79'
D. Momoh
(E. Baša - tactical)
79'
F. Hasaj
(S. Taipi - tactical)
72'
F. Kadriu
(D. Kapllani - tactical)
70'
M. Delimeđac
(A. M'bark el id - tactical)
64'
Vitor Leão
(A. Mehmeti - tactical)
Eldorjan Hamiti

Main referee

Indrit Myrtja

Fourth referee

Elvis Gjoka

Assistant referee

Gerald Cenolli

Assistant referee
Your content after this ad
Your content after this ad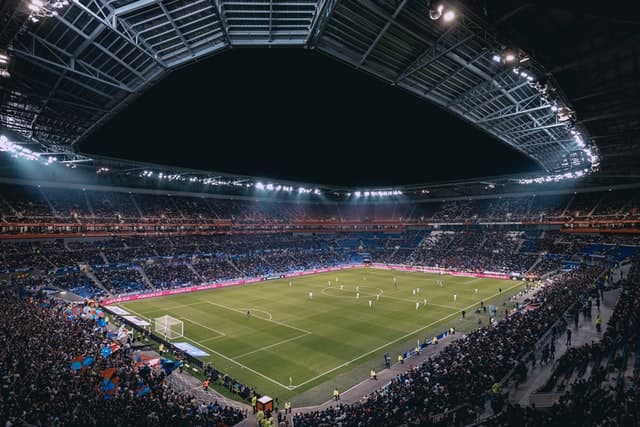 Stadiumi Niko Dovana - Durrës
Surface:

grass

Capacity:

12040

Average attendance:

336

Maximum attendance:

3000

% sold:

3
Match result Erzeni Kukësi
Date

18 March 2023 16:00

Competition

Superliga

Season

2022/2023

Stage

Regular Season - week 26

Match attendance

1000

Code

ERZ-KUK

Area

Albania

Home team

Erzeni Shijak

Away team

Kukësi
What is the result between Erzeni Kukësi?
The match resulted in a 1-1 draw between the two teams
---
Where to watch the highlights of Erzeni Kukësi?
Watch all Highlights and goals of the match of Superliga Erzeni Shijak Kukësi (1 - 1). A match of Regular Season - week 26 which take date the 18 March 2023 16:00. All Superliga video highlights are accessible via Football Today on our match pages.
---
What are the official lineups for Erzeni Kukësi?
Erzeni Shijak : Coached by X. Kapllani, the lineup starts off in a 4-3-3 formation: D. Xhika, A. Osmanllari, A. Mehmeti, A. Iljazi, A. Peposhi, M. Krivičič, Alan Calbergue, A. Kahrimanovic, I. Ademi, D. Kapllani, Patrick Nonato
Kukësi : On the other side of the pitch, the team trained by R. Hallaçi, is positioning themselves in a 4-3-3 : A. Tafas, E. Ndreca, A. Bytyçi, Ebert, R. Dragoshi, S. Taipi, A. M'bark el id, G. Taipi, E. Baša, A. Rashiti, J. Owusu
---
Who is the referee of the match Erzeni Kukësi ?
Eldorjan Hamiti is the referee for this match
---
Where is the match Erzeni Kukësi?
The venue Stadiumi Niko Dovana in Durrës is hosting the match
---
At what time is Erzeni Kukësi?
Fixture in live on Football Today on 18 March 2023. Kick-off at 16:00
Your content after this ad
Your content after this ad

Erzeni Shijak
4-3-3
A. Osmanllari

A. Mehmeti

A. Iljazi

A. Peposhi

M. Krivičič

Alan Calbergue

A. Kahrimanovic

I. Ademi

D. Kapllani

Patrick Nonato

E. Ndreca

A. Bytyçi

Ebert

R. Dragoshi

S. Taipi

A. M'bark el id

G. Taipi

E. Baša

A. Rashiti

J. Owusu

Kukësi
4-3-3
Substitutes

S. Kiqina

#

- Midfielder

K. Hasanbelli

#

- Goalkeeper

S. Aliti

#

- Striker

F. Kadriu

#

- Striker

E. Kovaçi

#

- Midfielder

L. Lleshi

#

- Defender

Enck

#

- Defender

E. Isteri

#

- Striker

K. Bespallov

#

- Striker

Vitor Leão

#

- Defender

Substitutes

F. Lamge

#

- Defender

F. Hasaj

#

- Midfielder

M. Delimeđac

#

- Midfielder

D. Momoh

#

- Midfielder

E. Peposhi

#

- Midfielder

J. Berisha

#

- Midfielder

A. Ilieski

#

- Defender

Gabriel Barbosa

#

- Striker

F. Domi

#27

- Striker

B. Halimi

#

- Goalkeeper
Your content after this ad
Your content after this ad
| | # | Team | Pts | P | W | D | L | GF | GA | GD |
| --- | --- | --- | --- | --- | --- | --- | --- | --- | --- | --- |
| | 1 | Partizani | 44 | 26 | 13 | 5 | 8 | 35 | 27 | 8 |
| | 2 | Tirana | 44 | 26 | 13 | 5 | 8 | 38 | 23 | 15 |
| | 3 | Egnatia | 41 | 27 | 11 | 8 | 8 | 34 | 23 | 11 |
| | 4 | Vllaznia | 38 | 27 | 10 | 8 | 9 | 29 | 25 | 4 |
| | 5 | Erzeni | 37 | 26 | 8 | 13 | 5 | 28 | 30 | -2 |
| | 6 | Kukësi | 35 | 27 | 10 | 5 | 12 | 24 | 28 | -4 |
| | 7 | Teuta | 34 | 26 | 8 | 10 | 8 | 24 | 30 | -6 |
| | 8 | Laçi | 33 | 26 | 10 | 3 | 13 | 30 | 32 | -2 |
| | 9 | Bylis | 29 | 27 | 7 | 8 | 12 | 20 | 28 | -8 |
| | 10 | Kastrioti | 24 | 26 | 5 | 9 | 12 | 19 | 35 | -16 |
UEFA Champions League Qualifiers
UEFA Conference League Qualifiers
Relegation Play-off
Relegation
| # | Team | Pts | P | W | D | L | GF | GA | GD |
| --- | --- | --- | --- | --- | --- | --- | --- | --- | --- |
| 1 | Partizani | 23 | 14 | 7 | 2 | 5 | 19 | 14 | 5 |
| 2 | Vllaznia | 22 | 13 | 6 | 4 | 3 | 19 | 10 | 9 |
| 3 | Erzeni | 20 | 14 | 4 | 8 | 2 | 15 | 15 | 0 |
| 4 | Tirana | 19 | 12 | 6 | 1 | 5 | 24 | 14 | 10 |
| 5 | Laçi | 19 | 14 | 6 | 1 | 7 | 18 | 15 | 3 |
| 6 | Kukësi | 19 | 14 | 6 | 1 | 7 | 12 | 13 | -1 |
| 7 | Bylis | 17 | 14 | 4 | 5 | 5 | 12 | 10 | 2 |
| 8 | Teuta | 17 | 12 | 4 | 5 | 3 | 10 | 10 | 0 |
| 9 | Egnatia | 16 | 13 | 4 | 4 | 5 | 17 | 12 | 5 |
| 10 | Kastrioti | 15 | 12 | 3 | 6 | 3 | 12 | 10 | 2 |
| # | Team | Pts | P | W | D | L | GF | GA | GD |
| --- | --- | --- | --- | --- | --- | --- | --- | --- | --- |
| 1 | Egnatia | 25 | 14 | 7 | 4 | 3 | 17 | 11 | 6 |
| 2 | Tirana | 25 | 14 | 7 | 4 | 3 | 14 | 9 | 5 |
| 3 | Partizani | 21 | 12 | 6 | 3 | 3 | 16 | 13 | 3 |
| 4 | Erzeni | 17 | 12 | 4 | 5 | 3 | 13 | 15 | -2 |
| 5 | Teuta | 17 | 14 | 4 | 5 | 5 | 14 | 20 | -6 |
| 6 | Kukësi | 16 | 13 | 4 | 4 | 5 | 12 | 15 | -3 |
| 7 | Vllaznia | 16 | 14 | 4 | 4 | 6 | 10 | 15 | -5 |
| 8 | Laçi | 14 | 12 | 4 | 2 | 6 | 12 | 17 | -5 |
| 9 | Bylis | 12 | 13 | 3 | 3 | 7 | 8 | 18 | -10 |
| 10 | Kastrioti | 9 | 14 | 2 | 3 | 9 | 7 | 25 | -18 |
| # | Team | Pts | P | W | D | L | GF | GA | GD |
| --- | --- | --- | --- | --- | --- | --- | --- | --- | --- |
| 1 | Egnatia | 41 | 27 | 8 | 17 | 1 | 15 | 7 | 8 |
| 2 | Vllaznia | 39 | 27 | 9 | 12 | 4 | 15 | 11 | 4 |
| 3 | Partizani | 38 | 26 | 10 | 8 | 4 | 18 | 14 | 4 |
| 4 | Erzeni | 35 | 26 | 8 | 11 | 3 | 12 | 10 | 2 |
| 5 | Tirana | 33 | 26 | 7 | 12 | 3 | 17 | 12 | 5 |
| 6 | Laçi | 33 | 26 | 7 | 12 | 5 | 15 | 16 | -1 |
| 7 | Kukësi | 31 | 27 | 7 | 10 | 6 | 9 | 14 | -5 |
| 8 | Teuta | 30 | 26 | 5 | 15 | 4 | 11 | 14 | -3 |
| 9 | Kastrioti | 26 | 26 | 4 | 14 | 6 | 8 | 17 | -9 |
| 10 | Bylis | 26 | 27 | 3 | 17 | 5 | 4 | 9 | -5 |
Your content after this ad
Your content after this ad
Goal stats within the 2 head to head
All stats
More than 1.5 goals scored
More than 2.5 goals scored
More than 3.5 goals scored
More than 4.5 goals scored
Patrick Carvalho Nonato
Striker
VS

Gabriel Barbosa Avelino
Striker