59'
M. Le Bihan
(Simulation)
50'
M. Ahlinvi
(Serious Foul)
30'
Y. Begraoui
(assist Q. Boisgard)
Your content after this ad
Your content after this ad
88'
J. Pi
(O. Thioune - tactical)
88'
W. Nassi Ouled Bentle
(B. Soumaré - tactical)
84'
M. George
(J. Evans - injury)
81'
D. Abzi
(Q. Boisgard - tactical)
80'
M. Aké
(R. Assalé - tactical)
67'
V. Jacob
(L. Tchaouna - tactical)
67'
M. Bassouamina
(S. D'Almeida - tactical)

Henri Saivet
# 20 - Midfielder
Duel won

9/15

(60%)

Accurate passes

20/27

(74.07%)
Shots on target

2
Shots off target

2
M. Le Bihan

2

L. Tchaouna

1
Big chance created

1
R. Assalé

1

Q. Boisgard

1
Successful contests

4
Q. Boisgard

2

Y. Begraoui

2
Fouls suffered

3
Dispossessed

4
Y. Begraoui

3

R. Assalé

2
Touches

104
Duel won

10
Duel lost

9
Interceptions

3
Challenge lost

3
R. Assalé

3

E. Sylvestre

2
Tackles

4
X. Kouassi

3

B. Soumaré

3
Aerial duels won

6
Aerial duels lost

5
Fouls

3
J. Evans

3

E. Sylvestre

2
Saves

5
Passes

83
Accurate passes

74
D. Ndong

73

O. Thioune

45
Accurate crosses

3
M. Le Bihan

2

Q. Boisgard

1
Mikael Lesage

Main referee

Julien Pacelli

Assistant referee

Eric Danizan

Assistant referee

Camille Soriano

Assistant referee

Loïc L'Henoret

Fourth referee
Your content after this ad
Your content after this ad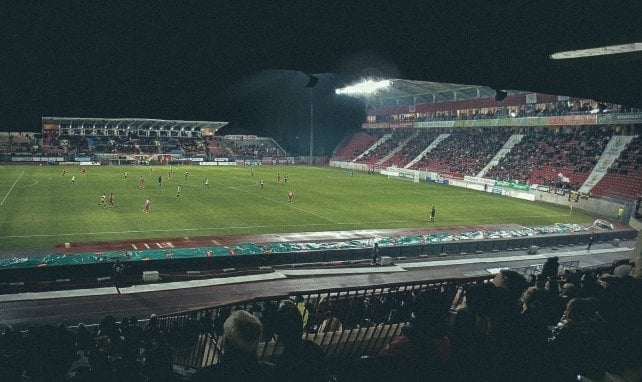 Stade Gaston-Gérard - Dijon
Year of construction:

1934

Surface:

grass

Capacity:

16098

Average attendance:

7577

Maximum attendance:

15160

% sold:

48
What is the result between Dijon Pau?
Pau won the match with a 0-1 score
---
What are the official lineups for Dijon Pau?
Dijon : Coached by O. Daf, the lineup starts off in a 4-2-3-1 formation: B. Reynet, A. Fofana, D. Ndong, Z. Touré (C), P. Joly, M. Ahlinvi, O. Thioune, R. Assalé, B. Soumaré, L. Tchaouna, M. Le Bihan
Pau : On the other side of the pitch, the team trained by D. Tholot, is positioning themselves in a 4-1-4-1 : J. Prior, J. Evans, J. Ruiz, X. Kouassi (C), E. Koffi, S. D'Almeida, Q. Boisgard, H. Saivet, S. Beusnard, E. Sylvestre, Y. Begraoui
---
Who is the referee of the match Dijon Pau ?
Mikael Lesage is the referee for this match
---
Where is the match Dijon Pau?
The venue Stade Gaston-Gérard in Dijon is hosting the match
---
At what time is Dijon Pau?
Fixture in live on Football Today on 18 March 2023. Kick-off at 18:00
---
Who is the man of the match Dijon - Pau ?
Henri Saivet is the outstanding player of the match Dijon - Pau. The stats illustrate the performance of the player:
9/15 Duel won (60%)
20/27 Accurate passes (74.07%)
Your content after this ad
Your content after this ad
Dijon
4-2-3-1
6.1

12

A. Fofana

5.8

20

D. Ndong

5.3

32

(C) Z. Touré

6.0

26

P. Joly

3.3

6

M. Ahlinvi

4.6

93

O. Thioune

5.8

77

R. Assalé

5.1

28

B. Soumaré

5.8

9

L. Tchaouna

5.1

26

J. Evans

6.3

25

J. Ruiz

7.1

4

(C) X. Kouassi

6.0

7

E. Koffi

5.7

27

Q. Boisgard

7.2

20

H. Saivet

6.2

21

S. Beusnard

5.8

12

E. Sylvestre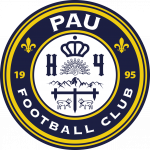 Pau
4-1-4-1
Substitutes

J. Marié

#14

- Midfielder

W. Nassi Ouled Bentle

#22

- Midfielder

M. Aké

#7

- Striker

V. Jacob

#11

- Midfielder

S. Allagbé

#16

- Goalkeeper

J. Pi

#25

- Midfielder

D. Congré

#3

- Defender

Substitutes

D. Abzi

#2

- Defender

M. George

#9

- Striker

A. Batisse

#17

- Defender

M. Ndiaye

#16

- Goalkeeper

M. Bassouamina

#11

- Striker

Nguyễn Quang Hải

#19

- Midfielder

N. Sow

#5

- Defender
Your content after this ad
Your content after this ad
Big chance created

R. Assalé

1

Q. Boisgard

1
Shots (%)

Y. Begraoui

50%

(2/4)

V. Jacob

50%

(1/2)

H. Saivet

50%

(1/2)
Successful contests

Q. Boisgard

2

Y. Begraoui

2

R. Assalé

2
Fouls suffered

X. Kouassi

2

P. Joly

2

O. Thioune

2

M. Le Bihan

2
Touches

Shots (%)

Dispossessed

Duel won (%)

P. Joly

71%

(10/14)

A. Fofana

70%

(7/10)

J. Ruiz

63%

(5/8)

H. Saivet

60%

(9/15)
Interceptions

Aerial duels won (%)

J. Prior

100%

(3/3)

S. D'Almeida

100%

(2/2)

B. Soumaré

80%

(4/5)

X. Kouassi

75%

(3/4)
Duel won (%)

Y. Begraoui

31%

(4/13)

S. Beusnard

31%

(4/13)

J. Evans

31%

(4/13)

M. Ahlinvi

36%

(4/11)
Challenge lost

Aerial duels won (%)

A. Fofana

0%

(0/2)

Y. Begraoui

0%

(0/2)

R. Assalé

0%

(0/2)

M. Le Bihan

0%

(0/2)
Passes (%)

S. Beusnard

89%

(31/35)

D. Ndong

88%

(73/83)
Accurate crosses

Passes (%)

Your content after this ad
Your content after this ad
| | # | Team | Pts | P | W | D | L | GF | GA | GD |
| --- | --- | --- | --- | --- | --- | --- | --- | --- | --- | --- |
| | 1 | Le Havre | 57 | 28 | 15 | 12 | 1 | 39 | 14 | 25 |
| | 2 | Bordeaux | 50 | 28 | 14 | 8 | 6 | 39 | 23 | 16 |
| | 3 | Sochaux | 49 | 28 | 14 | 7 | 7 | 44 | 23 | 21 |
| | 4 | Metz | 48 | 28 | 13 | 9 | 6 | 43 | 26 | 17 |
| | 5 | Bastia | 45 | 28 | 13 | 6 | 9 | 32 | 30 | 2 |
| | 6 | Caen | 43 | 28 | 11 | 10 | 7 | 34 | 29 | 5 |
| | 7 | Grenoble | 41 | 28 | 11 | 8 | 9 | 27 | 24 | 3 |
| | 8 | QRM | 39 | 28 | 10 | 9 | 9 | 31 | 30 | 1 |
| | 9 | Guingamp | 38 | 28 | 10 | 8 | 10 | 36 | 37 | -1 |
| | 10 | Paris | 37 | 28 | 10 | 7 | 11 | 28 | 29 | -1 |
| | 11 | Amiens | 37 | 28 | 10 | 7 | 11 | 30 | 35 | -5 |
| | 12 | Saint-Étienne | 36 | 29 | 10 | 9 | 10 | 43 | 43 | 0 |
| | 13 | Annecy | 33 | 28 | 8 | 9 | 11 | 30 | 34 | -4 |
| | 14 | Valenciennes | 33 | 28 | 7 | 12 | 9 | 28 | 34 | -6 |
| | 15 | Pau | 33 | 28 | 8 | 9 | 11 | 22 | 31 | -9 |
| | 16 | Rodez | 31 | 28 | 7 | 10 | 11 | 29 | 37 | -8 |
| | 17 | Laval | 31 | 28 | 9 | 4 | 15 | 33 | 43 | -10 |
| | 18 | Dijon | 26 | 28 | 6 | 8 | 14 | 24 | 34 | -10 |
| | 19 | Nîmes | 26 | 28 | 7 | 5 | 16 | 28 | 43 | -15 |
| | 20 | Niort | 26 | 29 | 7 | 5 | 17 | 27 | 48 | -21 |
| # | Team | Pts | P | W | D | L | GF | GA | GD |
| --- | --- | --- | --- | --- | --- | --- | --- | --- | --- |
| 1 | Le Havre | 32 | 14 | 9 | 5 | 0 | 21 | 7 | 14 |
| 2 | Sochaux | 31 | 15 | 9 | 4 | 2 | 29 | 11 | 18 |
| 3 | Caen | 29 | 14 | 8 | 5 | 1 | 21 | 9 | 12 |
| 4 | Bordeaux | 28 | 14 | 8 | 4 | 2 | 19 | 9 | 10 |
| 5 | Bastia | 26 | 14 | 8 | 2 | 4 | 16 | 10 | 6 |
| 6 | Saint-Étienne | 25 | 15 | 7 | 4 | 4 | 24 | 20 | 4 |
| 7 | Grenoble | 25 | 14 | 7 | 4 | 3 | 14 | 10 | 4 |
| 8 | Metz | 24 | 14 | 6 | 6 | 2 | 19 | 12 | 7 |
| 9 | Valenciennes | 24 | 14 | 5 | 9 | 0 | 21 | 15 | 6 |
| 10 | QRM | 21 | 14 | 5 | 6 | 3 | 21 | 16 | 5 |
| 11 | Amiens | 21 | 14 | 6 | 3 | 5 | 16 | 15 | 1 |
| 12 | Annecy | 21 | 14 | 6 | 3 | 5 | 13 | 13 | 0 |
| 13 | Dijon | 20 | 15 | 5 | 5 | 5 | 15 | 15 | 0 |
| 14 | Nîmes | 19 | 13 | 6 | 1 | 6 | 13 | 14 | -1 |
| 15 | Laval | 17 | 14 | 5 | 2 | 7 | 19 | 20 | -1 |
| 16 | Pau | 17 | 13 | 4 | 5 | 4 | 11 | 14 | -3 |
| 17 | Niort | 17 | 14 | 5 | 2 | 7 | 17 | 23 | -6 |
| 18 | Paris | 15 | 14 | 4 | 3 | 7 | 15 | 17 | -2 |
| 19 | Guingamp | 15 | 14 | 4 | 3 | 7 | 17 | 20 | -3 |
| 20 | Rodez | 11 | 14 | 2 | 5 | 7 | 13 | 23 | -10 |
| # | Team | Pts | P | W | D | L | GF | GA | GD |
| --- | --- | --- | --- | --- | --- | --- | --- | --- | --- |
| 1 | Le Havre | 25 | 14 | 6 | 7 | 1 | 18 | 7 | 11 |
| 2 | Metz | 24 | 14 | 7 | 3 | 4 | 24 | 14 | 10 |
| 3 | Guingamp | 23 | 14 | 6 | 5 | 3 | 19 | 17 | 2 |
| 4 | Bordeaux | 22 | 14 | 6 | 4 | 4 | 20 | 14 | 6 |
| 5 | Paris | 22 | 14 | 6 | 4 | 4 | 13 | 12 | 1 |
| 6 | Rodez | 20 | 14 | 5 | 5 | 4 | 16 | 14 | 2 |
| 7 | Bastia | 19 | 14 | 5 | 4 | 5 | 16 | 20 | -4 |
| 8 | Sochaux | 18 | 13 | 5 | 3 | 5 | 15 | 12 | 3 |
| 9 | QRM | 18 | 14 | 5 | 3 | 6 | 10 | 14 | -4 |
| 10 | Grenoble | 16 | 14 | 4 | 4 | 6 | 13 | 14 | -1 |
| 11 | Amiens | 16 | 14 | 4 | 4 | 6 | 14 | 20 | -6 |
| 12 | Pau | 16 | 15 | 4 | 4 | 7 | 11 | 17 | -6 |
| 13 | Saint-Étienne | 14 | 14 | 3 | 5 | 6 | 19 | 23 | -4 |
| 14 | Caen | 14 | 14 | 3 | 5 | 6 | 13 | 20 | -7 |
| 15 | Laval | 14 | 14 | 4 | 2 | 8 | 14 | 23 | -9 |
| 16 | Annecy | 12 | 14 | 2 | 6 | 6 | 17 | 21 | -4 |
| 17 | Valenciennes | 9 | 14 | 2 | 3 | 9 | 7 | 19 | -12 |
| 18 | Niort | 9 | 15 | 2 | 3 | 10 | 10 | 25 | -15 |
| 19 | Nîmes | 7 | 15 | 1 | 4 | 10 | 15 | 29 | -14 |
| 20 | Dijon | 6 | 13 | 1 | 3 | 9 | 9 | 19 | -10 |
| # | Team | Pts | P | W | D | L | GF | GA | GD |
| --- | --- | --- | --- | --- | --- | --- | --- | --- | --- |
| 1 | Bordeaux | 46 | 28 | 13 | 7 | 5 | 22 | 10 | 12 |
| 2 | Sochaux | 46 | 28 | 11 | 13 | 2 | 20 | 11 | 9 |
| 3 | QRM | 44 | 28 | 10 | 14 | 2 | 16 | 12 | 4 |
| 4 | Metz | 43 | 28 | 10 | 13 | 4 | 20 | 11 | 9 |
| 5 | Laval | 40 | 28 | 9 | 13 | 3 | 20 | 20 | 0 |
| 6 | Le Havre | 39 | 28 | 8 | 15 | 4 | 10 | 6 | 4 |
| 7 | Grenoble | 39 | 28 | 7 | 18 | 2 | 11 | 8 | 3 |
| 8 | Guingamp | 36 | 28 | 8 | 12 | 5 | 19 | 17 | 2 |
| 9 | Amiens | 36 | 28 | 8 | 12 | 6 | 12 | 13 | -1 |
| 10 | Valenciennes | 35 | 28 | 6 | 17 | 5 | 15 | 14 | 1 |
| 11 | Bastia | 34 | 28 | 7 | 13 | 5 | 14 | 15 | -1 |
| 12 | Annecy | 34 | 28 | 7 | 13 | 2 | 14 | 17 | -3 |
| 13 | Saint-Étienne | 33 | 29 | 6 | 15 | 5 | 16 | 15 | 1 |
| 14 | Caen | 33 | 28 | 6 | 15 | 4 | 12 | 14 | -2 |
| 15 | Pau | 32 | 28 | 8 | 8 | 6 | 9 | 16 | -7 |
| 16 | Paris | 32 | 28 | 6 | 14 | 3 | 9 | 13 | -4 |
| 17 | Dijon | 31 | 28 | 7 | 10 | 5 | 10 | 13 | -3 |
| 18 | Rodez | 27 | 28 | 4 | 15 | 3 | 10 | 17 | -7 |
| 19 | Niort | 26 | 29 | 4 | 14 | 5 | 12 | 23 | -11 |
| 20 | Nîmes | 25 | 28 | 4 | 13 | 9 | 12 | 18 | -6 |
Your content after this ad
Your content after this ad
Goal stats within the 3 head to head
All stats
More than 1.5 goals scored
More than 2.5 goals scored
More than 3.5 goals scored
More than 4.5 goals scored


Mickaël Le Bihan
Striker
VS

Mons Bassouamina
Striker
Shots On Target ( inc goals )


Bryan Soumaré
Midfielder
VS


Eddy Sylvestre
Striker
Key Passes (Attempt Assists)
Total Successful Passes ( Excl Crosses & Corners )