Your content after this ad
Your content after this ad
90+3'
M. Abazaj
(X. Maçolli - tactical)
79'
F. Ruçi
(Esquerdinha - tactical)
75'
A. Danladi
(Jô Santos - tactical)
75'
V. Zogos
(X. Lajthia - tactical)
69'
A. Gjumsi
(K. Toshevski - tactical)
61'
K. Abazaj
(D. Nikqi - tactical)
46'
A. Hila
(B. Lulaj - tactical)
Denis Rexha

Assistant referee

Daniel Vrapi

Fourth referee

Ridiger Çokaj

Assistant referee
Your content after this ad
Your content after this ad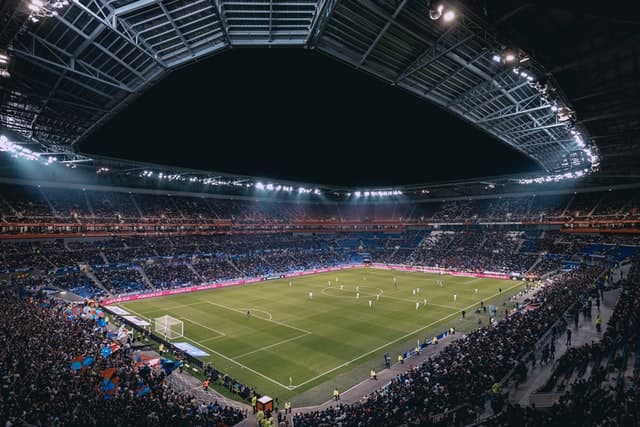 Stadiumi Adush Muça - Ballsh
Surface:

grass

Capacity:

2470

Average attendance:

482

Maximum attendance:

1000

Minimum attendance:

150

% sold:

20
Match result Bylis Tirana
What is the result between Bylis Tirana?
The match resulted in a 1-1 draw between the two teams
---
What are the official lineups for Bylis Tirana?
Bylis : Coached by N. Şensoy, the lineup starts off in a 5-3-2 formation: A. Teqja, M. Adili, V. Zguro, Lorran, A. Trumçi, A. Damcevski, X. Lajthia, X. Maçolli, Esquerdinha, L. Kaçorri, Jô Santos
Tirana : On the other side of the pitch, the team trained by O. Shehi, is positioning themselves in a 3-5-2 : V. Bekaj, F. Pergjoni, K. Toshevski, B. Lulaj, R. Haxhiu, A. Aleksi, F. Najdovski, A. Deliu, R. Lushkja, F. Hasani, D. Nikqi
---
Who is the referee of the match Bylis Tirana ?
Enea Jorgji is the referee for this match
---
Where is the match Bylis Tirana?
The venue Stadiumi Adush Muça in Ballsh is hosting the match
---
At what time is Bylis Tirana?
Fixture in live on Football Today on 18 March 2023. Kick-off at 13:00
Your content after this ad
Your content after this ad
Substitutes

A. Danladi

#

- Striker

T. Doi

#

- Striker

A. Muçollari

#

- Defender

M. Abazaj

#

- Midfielder

F. Ruçi

#

- Midfielder

V. Zogos

#

- Defender

A. Qoshku

#

- Midfielder

X. Ndreu

#

- Defender

R. Beqaj

#

- Goalkeeper

E. Qardaku

#

- Striker

Substitutes

A. Hila

#7

- Midfielder

K. Abazaj

#

- Striker

J. Behiratche

#20

- Defender

A. Gjumsi

#17

- Striker

I. Lika

#1

- Goalkeeper

E. Berisha

#

- Midfielder

K. Qefalija

#21

- Midfielder
Your content after this ad
Your content after this ad
| | # | Team | Pts | P | W | D | L | GF | GA | GD |
| --- | --- | --- | --- | --- | --- | --- | --- | --- | --- | --- |
| | 1 | Partizani | 44 | 26 | 13 | 5 | 8 | 35 | 27 | 8 |
| | 2 | Tirana | 44 | 26 | 13 | 5 | 8 | 38 | 23 | 15 |
| | 3 | Egnatia | 41 | 27 | 11 | 8 | 8 | 34 | 23 | 11 |
| | 4 | Vllaznia | 38 | 27 | 10 | 8 | 9 | 29 | 25 | 4 |
| | 5 | Erzeni | 37 | 26 | 8 | 13 | 5 | 28 | 30 | -2 |
| | 6 | Kukësi | 35 | 27 | 10 | 5 | 12 | 24 | 28 | -4 |
| | 7 | Teuta | 34 | 26 | 8 | 10 | 8 | 24 | 30 | -6 |
| | 8 | Laçi | 33 | 26 | 10 | 3 | 13 | 30 | 32 | -2 |
| | 9 | Bylis | 29 | 27 | 7 | 8 | 12 | 20 | 28 | -8 |
| | 10 | Kastrioti | 24 | 26 | 5 | 9 | 12 | 19 | 35 | -16 |
UEFA Champions League Qualifiers
UEFA Conference League Qualifiers
Relegation Play-off
Relegation
| # | Team | Pts | P | W | D | L | GF | GA | GD |
| --- | --- | --- | --- | --- | --- | --- | --- | --- | --- |
| 1 | Partizani | 23 | 14 | 7 | 2 | 5 | 19 | 14 | 5 |
| 2 | Vllaznia | 22 | 13 | 6 | 4 | 3 | 19 | 10 | 9 |
| 3 | Erzeni | 20 | 14 | 4 | 8 | 2 | 15 | 15 | 0 |
| 4 | Tirana | 19 | 12 | 6 | 1 | 5 | 24 | 14 | 10 |
| 5 | Laçi | 19 | 14 | 6 | 1 | 7 | 18 | 15 | 3 |
| 6 | Kukësi | 19 | 14 | 6 | 1 | 7 | 12 | 13 | -1 |
| 7 | Bylis | 17 | 14 | 4 | 5 | 5 | 12 | 10 | 2 |
| 8 | Teuta | 17 | 12 | 4 | 5 | 3 | 10 | 10 | 0 |
| 9 | Egnatia | 16 | 13 | 4 | 4 | 5 | 17 | 12 | 5 |
| 10 | Kastrioti | 15 | 12 | 3 | 6 | 3 | 12 | 10 | 2 |
| # | Team | Pts | P | W | D | L | GF | GA | GD |
| --- | --- | --- | --- | --- | --- | --- | --- | --- | --- |
| 1 | Egnatia | 25 | 14 | 7 | 4 | 3 | 17 | 11 | 6 |
| 2 | Tirana | 25 | 14 | 7 | 4 | 3 | 14 | 9 | 5 |
| 3 | Partizani | 21 | 12 | 6 | 3 | 3 | 16 | 13 | 3 |
| 4 | Erzeni | 17 | 12 | 4 | 5 | 3 | 13 | 15 | -2 |
| 5 | Teuta | 17 | 14 | 4 | 5 | 5 | 14 | 20 | -6 |
| 6 | Kukësi | 16 | 13 | 4 | 4 | 5 | 12 | 15 | -3 |
| 7 | Vllaznia | 16 | 14 | 4 | 4 | 6 | 10 | 15 | -5 |
| 8 | Laçi | 14 | 12 | 4 | 2 | 6 | 12 | 17 | -5 |
| 9 | Bylis | 12 | 13 | 3 | 3 | 7 | 8 | 18 | -10 |
| 10 | Kastrioti | 9 | 14 | 2 | 3 | 9 | 7 | 25 | -18 |
| # | Team | Pts | P | W | D | L | GF | GA | GD |
| --- | --- | --- | --- | --- | --- | --- | --- | --- | --- |
| 1 | Egnatia | 41 | 27 | 8 | 17 | 1 | 15 | 7 | 8 |
| 2 | Vllaznia | 39 | 27 | 9 | 12 | 4 | 15 | 11 | 4 |
| 3 | Partizani | 38 | 26 | 10 | 8 | 4 | 18 | 14 | 4 |
| 4 | Erzeni | 35 | 26 | 8 | 11 | 3 | 12 | 10 | 2 |
| 5 | Tirana | 33 | 26 | 7 | 12 | 3 | 17 | 12 | 5 |
| 6 | Laçi | 33 | 26 | 7 | 12 | 5 | 15 | 16 | -1 |
| 7 | Kukësi | 31 | 27 | 7 | 10 | 6 | 9 | 14 | -5 |
| 8 | Teuta | 30 | 26 | 5 | 15 | 4 | 11 | 14 | -3 |
| 9 | Kastrioti | 26 | 26 | 4 | 14 | 6 | 8 | 17 | -9 |
| 10 | Bylis | 26 | 27 | 3 | 17 | 5 | 4 | 9 | -5 |
Your content after this ad
Your content after this ad
Goal stats within the 2 head to head
All stats
More than 1.5 goals scored
More than 2.5 goals scored
More than 3.5 goals scored
More than 4.5 goals scored