85'
Arturo
(C. I'Anson - tactical)
85'
Jesús Alfaro
(David Soto - tactical)
81'
Alberto Ródenas
(Foul)
76'
A. Burlamaqui
(Francis Ferrón - tactical)
76'
Carlos Calderón
(G. Mancuso - tactical)
67'
Rafa de Vicente
(Alberto Villapalos - tactical)
63'
Carlos Cordero
(Adilson - tactical)
63'
Zelu
(Javi Ros - tactical)
62'
Alberto Villapalos
(Foul)
58'
Jime
(Borja Giner - tactical)
46'
Alberto Ródenas
(Javi Mecerreyes - tactical)
46'
Javi Gómez
(Apa - tactical)
85'
Arturo
(C. I'Anson - tactical)
85'
Jesús Alfaro
(David Soto - tactical)
76'
A. Burlamaqui
(Francis Ferrón - tactical)
76'
Carlos Calderón
(G. Mancuso - tactical)
67'
Rafa de Vicente
(Alberto Villapalos - tactical)
63'
Carlos Cordero
(Adilson - tactical)
63'
Zelu
(Javi Ros - tactical)
58'
Jime
(Borja Giner - tactical)
46'
Alberto Ródenas
(Javi Mecerreyes - tactical)
46'
Javi Gómez
(Apa - tactical)
Your content after this ad
Your content after this ad
Gonzalo Romero Freixas

Main referee

Enrique Acero Pradera

Assistant referee

Brais García Valín

Assistant referee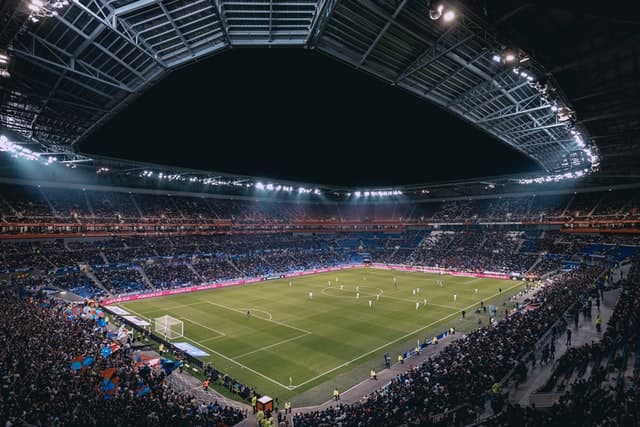 Estadio Municipal Nuevo Matapiñonera - San Sebastián de los Reyes
Surface:

artificial

Capacity:

3000
Match result SS Reyes Badajoz
What is the result between SS Reyes Badajoz?
Badajoz won the match with a 1-3 score
---
Where to watch the highlights of SS Reyes Badajoz?
Watch all Highlights and goals of the match of Segunda B SS Reyes Badajoz (1 - 3). A match of Group 1 - week 12 which take date the 20 November 2022 11:00. All Segunda B video highlights are accessible via Football Today on our match pages.
---
What are the official lineups for SS Reyes Badajoz?
SS Reyes : Coached by Luis Ayllón, the lineup starts off in a 5-3-2 formation: Pedro López, Alberto Villapalos, Apa, F. Fomeyem, C. I'Anson, Sergio Nieto, Borja Giner, Javi Mecerreyes, Borja Sánchez, Raúl Hernández, Pedro Benito
Badajoz : On the other side of the pitch, the team trained by José Salmerón, is positioning themselves in a 4-5-1 : Kike Royo, Borja García, José Mas, Edu Sánchez, M. Gómez, G. Mancuso, David Soto, Raúl Palma, Adilson, Javi Ros, Francis Ferrón
---
Who is the referee of the match SS Reyes Badajoz ?
Gonzalo Romero Freixas is the referee for this match
---
Where is the match SS Reyes Badajoz?
The venue Estadio Municipal Nuevo Matapiñonera in San Sebastián de los Reyes is hosting the match
---
At what time is SS Reyes Badajoz?
Fixture in live on Football Today on 20 November 2022. Kick-off at 11:00
Substitutes

A. Coulibaly

#

- Midfielder

Jime

#10

- Midfielder

Javi Gómez

#

- Striker

Ato

#

- Midfielder

Rafa de Vicente

#

- Midfielder

Ismael de Andrés

#13

- Goalkeeper

Adama Keita

#

- Striker

Rafa Navarro

#

- Defender

Alberto Ródenas

#

- Striker

Alejandro Palop

#

- Goalkeeper

Juanra

#4

- Defender

Arturo

#9

- Striker

Substitutes

S. Müller

#

- Striker

Jesús Alfaro

#

- Striker

Miguel Narváez

#

- Goalkeeper

A. Burlamaqui

#

- Midfielder

T. Chendri

#

- Midfielder

Carlos Calderón

#

- Midfielder

Zelu

#16

- Striker

Carlos Cordero

#

- Defender

Luis Valcarce

#

- Defender
Promotion
Promotion Play-off
Relegation
Goal stats within the 4 head to head
All stats
More than 1.5 goals scored
More than 2.5 goals scored
More than 3.5 goals scored
More than 4.5 goals scored